Custom Web Applications
We have extensive experience in developing custom web applications to replace an Access database or Excel spreadsheet. Many businesses have started out using Access or Excel as these are quick and simple for almost anyone to start using. They can quickly be setup to store lists of relevant information which can be sorted, viewed and printed.
Often however an Access database or Excel spreadsheet will outgrow its original purpose. More people may need to view or edit the information, data may need to be exported or shared with another business or website, or groups of users may need to be restricted to prevent accidental loss or changing of information.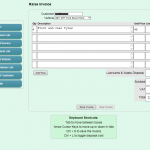 Customer Management, Invoicing and MOT reminder system for small motor mechanics and garages.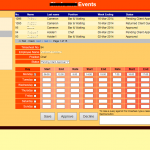 Electronic Timesheets for employees with client viewing and approval system for recruitment agency.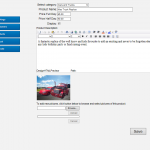 Online booking system and product management for bouncy castle and attractions hire company.
In addition, as the amount of information stored increases it needs to be kept safe and secure in a system which is reliable, automatically backed up, stable and without the risk of corruption.
Combining a powerful database with a web based front end will solve all the above issues and bring many additional benefits and possibilities. For example, you will no longer need to install any software on each PC, you just plug in a new computer and start to use the web based front end. You can also securely access your system remotely from home or whilst travelling; in fact anywhere you have internet access including on your phone or tablet.
Excel Chaos
Nearly every person familiar with Microsoft Excel regardless of the field of business will have suffered from Excel chaos; namely using Excel to organise data and sharing it with others by emailing the file back and forth. With only two or three people involve this can work but it can easily result in corrupted, compromised and confusing data. The result of which is wasted time and money and possibly even bad decisions. Worse still, it may result in an unwanted data breach. An inbox full of email with Excel files as attachments is slow and awkward to manage and can lead to confusion over which file contains the latest updates.
The major drawbacks to using Excel to store your data are:
Inefficient use of email
Corrupted data
Incorrect decisions
Merging updates from multiple people
Data breaches
Excel is not a database and should not be used as such. It does not have the concept of data types and cannot easily enforce data validation and relationships. It is not multi-user and there is no security.
Custom Web Application Development
Web development, along with web design, is crucial to the success of your business website. Whilst your website layout and graphics are defined by the web design, web development is the coding which implements your business processes.
Professional web development complements your web design and enables you to move your business online, creating a self-service portal for your customers which is open 24 hours per day.
Most website designers deliver out of the box websites, typically using WordPress, which look great as a brochure; but do not provide interactivity and connection with your customers.
Such websites using a cookie cutter template take very little time to setup. Having taken a glance at the slideshow typically placed on the homepage of brochure websites; customers leave with little reason to return.
Alternatively, if your business moves its processes or services onto its website; then customers can engage with your business and purchase or consume its services whenever they wish, 24 hours per day.
Most businesses have services that can be provided on a website. To achieve this requires technical expertise which very few web design companies can provide. We work with our customers to analyse their business and advise them on how they can move core functions online to save time, money and always be open for business.
Our customers are typically independent businesses with fewer than 10 employees such as high street shops, garages, estate agents or schools.
Please contact us with details of your project
Personalised Software For Your Business
If your business has particular requirements and you can't find any software to meet them then bespoke software, which is developed specifically for you, is probably the answer. After a detailed analysis of your business and it's working processes your bespoke software can be designed. Being bespoke and specific to your business means it will do exactly what you require as well as being modern, attractive and easy to use.
Web Applications
Talk directly with UK based developer team
Web Application Design & Development
Customer Relationship Management Systems
Customer and Employee Portals
Modern Languages and Technologies
Bespoke software which meets the exact needs of your business will enable your business and employees to be more productive. This will result in your business saving time and money.